Price match guarantee is subject to some restrictions. Excludes labor and travel fees. Only registered companies within 20 miles of Rockford IL are eligible. Other restrictions may apply. See store for details.
Please note that we reserve the right to deny services to customers that do not follow our policies and or display rude/inappropriate behavior or language towards staff/equipment.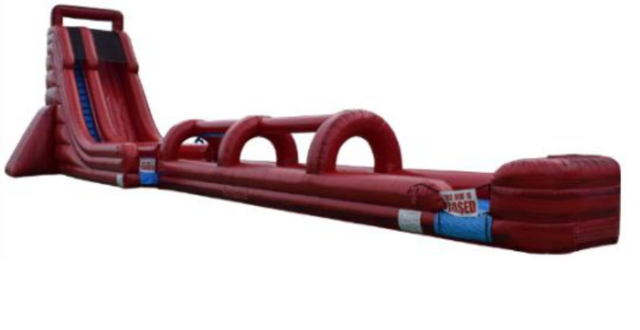 BRAND NEW! HUGE 27' Lava Screamer Water Slide With Slip & Slide Ending $̶6̶8̶9̶.̶9̶9̶
Actual Size: 84' L x 23' W x 27' H
Outlets: 2-3
Age Group: 7+




Our 27' Lava Screamer Water Slide With Slip N Slide Ending is known for thrills with its height and fast paced slip. Its huge height is sure to get attention! This 27-ft unit can be used either as a water slide for hours of slipping and sliding fun on a hot day or turn off the water and it works perfectly as a dry slide.
All our wet and dry slides have an inflated landing zone for safe use both wet and dry. The climbing area, top launch platform, and entrance area feature a non slip grip material for a safer experience and peace of mind when used as a water slide. Our wet slide features a built in misting system! The splash zone has built in drains on both sides to keep the water level ideal for all ages.
Our 27' Lava Screamer Water Slide is ideal for a number of outdoor events, including birthday parties, family reunions, Fourth of July celebrations, carnivals, barbecue, fundraisers and more. This inflatable slide will suit your outdoor entertainment needs.
Tall water slippery water slide for school age and older, including adults!