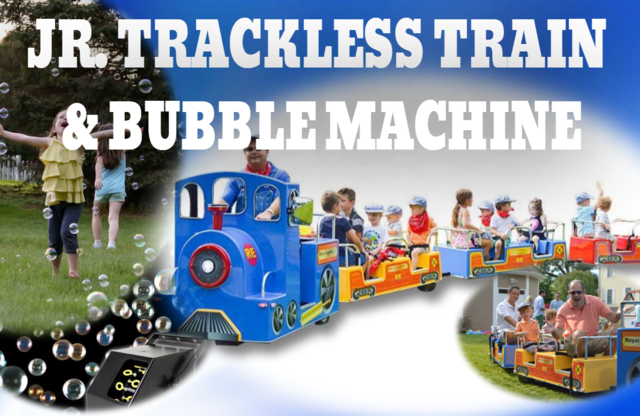 Jr. Royal Express Trackless Train & Bubble Machine Package
Jr. Family Royal Express Trackless Train & Bubble Machine Package Deal!
The Rental Price includes a trained operating attendant and after the minimum two hour rental you can add additional hours for only $150/hr.

Make your event one to remember! Who doesn't love bubbles and a smooth ride? This package includes a bubble machine and the Royal Express Jr. Trackless Train! The Royal Jr. Express is an electric powered trackless train - which means it is capable of being run indoors (only requires access through a 48" doorway) or other places gas trains cannot. The Royal Jr. Express trackless train is fun for a wide range of ages including adults! This package is awesome for any festival, corporate party, event or residential backyard party or graduation and it is sure to keep all entertained for hours.
Includes: Train engine plus 3 coaches (with roof) for seating up to 16 kids or 12 adults and a train station.
Capacity: 12 adults per ride or 16 kids per ride. With up to 120 adults or 160 kids per hour at 5 min each ride.
Requires: A flat surface and area away from foot and car traffic. Please note it works well in indoor applications such as all purpose rooms, school gyms, banquet halls, and any other indoor location that has a minimum of 35x35 foot area and a ground level entry door or 8x8 foot elevator.