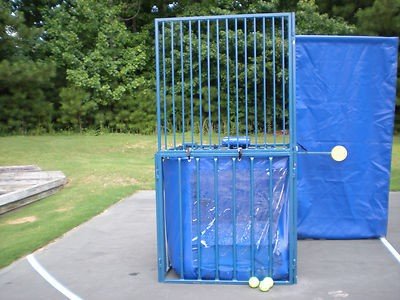 Kiddie Collapsible Dunk Tank
This dunk tank features a collapsible feature and fits in very small entryways. This is a great alternative for those that have fenced yards or other small entryway restrictions. It is not suitble for players over 120 lbs.

A dunk tank is one of those iconic carnival/party attractions that everybody, big and small will enjoy. The game is simple, a player hits the target and if successful, the "victim" falls into the dunk tank. This is game of chance, and anticipation.
Additional Features:
Clear panels in tank for safety and visibility

Ladder for easy accessiblility when climbing onto the seat

Protective panel to prevent volunteer from being hit with the ball
A dunk tank is a great idea for fundraising at schools, churches or other organizations. It is also a great addition to any fun outdoor party or event.