Price match guarantee is subject to some restrictions. Excludes labor and travel fees. Only registered companies within 20 miles of Rockford IL are eligible. Other restrictions may apply. See store for details.
Please note that we reserve the right to deny services to customers that do not follow our policies and or display rude/inappropriate behavior or language towards staff/equipment.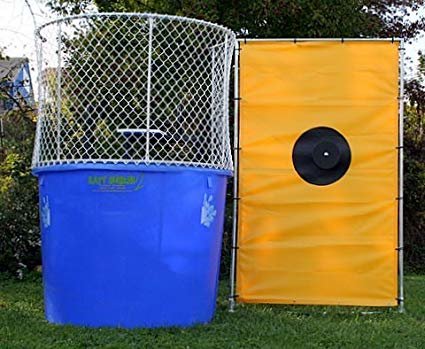 Deluxe Dunk Tank
A dunk tank is one of those iconic carnival/party attractions that everybody, big and small will enjoy. The game is simple, a player hits the target and if successful, the "victim" falls into the dunk tank. This is game of chance, and anticipation.
Additional Features:
Ladder for easy accessiblility when climbing onto the seat

Protective panel to prevent volunteer from being hit with the ball
A dunk tank is a great idea for fundraising at schools, churches or other organizations. It is also a great addition to any fun outdoor party or event.