Small Backyard Graduation?
Don't have a lot to spend and have just a few guests? We have the right size tent package for any number of guests. Reserve our backyard popup tent package for 24 guests and enjoy protection from the elements at an affordable price!
Package includes:
one 10x20 pop up tent, 24 chairs and 4 tables.
Reserve early for the best selection.
Click to See Price & Reserve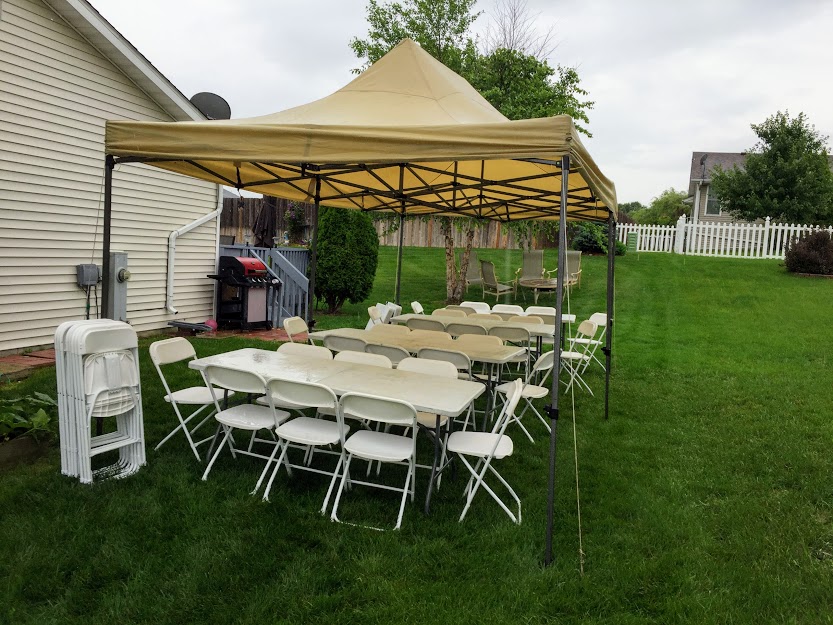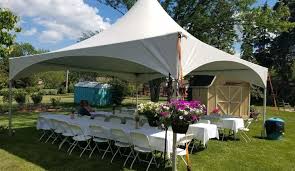 High Peak Tent Package For 50
High Peak Tent Package For 50 with no sidewalls
Package includes one 20x20 high peak tent, 50 white folding chairs and 8 six ft. banquet tables
*Delivery Additional
Click to See Price & Reserve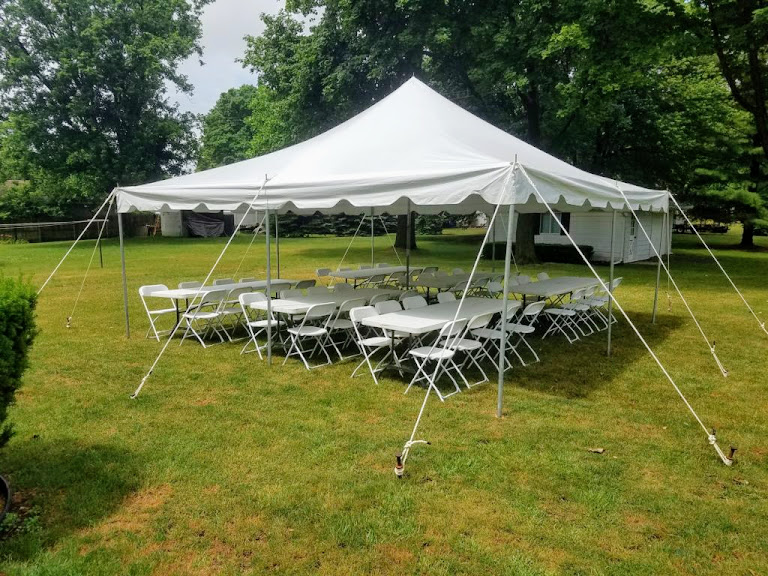 Pole Tent Package For 50
White Pole Tent Package For 50 with no sidewalls
Package includes one 20x20 pole tent, 50 white folding chairs and 8 six ft. banquet tables
*Delivery Additional
Click to See Price & Reserve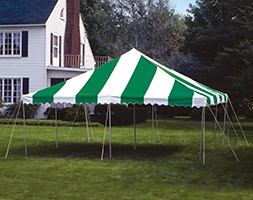 Green/White Pole Tent Package For 50
Green/White Pole Tent Package For 50 with no sidewalls
Package includes one 20x20 pole tent, 50 white folding chairs and 8 six ft. banquet tables
*Delivery Additional
Click to See Price & Reserve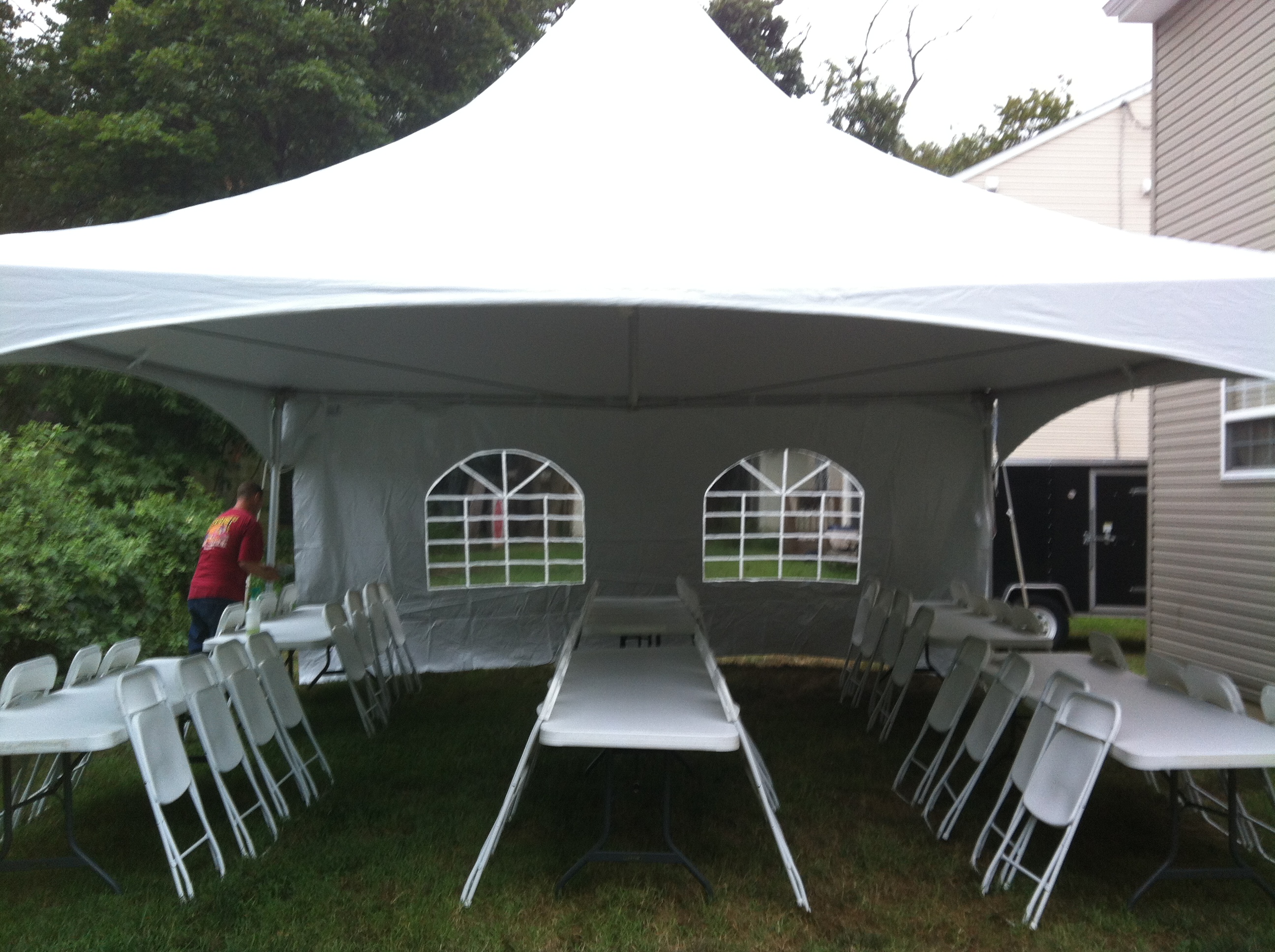 High Peak Tent Package For 50 With 1-3 Sidewalls
High Peak Tent Package For 50 with 1-3 Sidewalls
Package includes one 20x20 high peak tent, 50 white folding chairs and 8 six ft. banquet tables
*Delivery Additional
Click to See Price & Reserve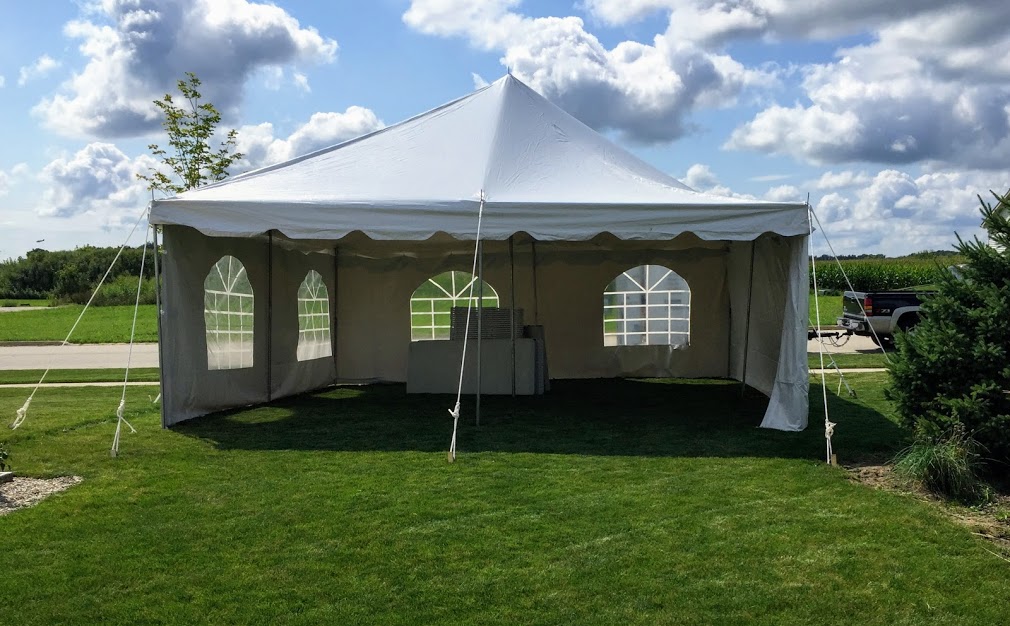 Pole Tent Package For 50 With 1-3 Sidewalls
White Pole Tent Package For 50 with 1-3 Sidewalls
Package includes one 20x20 high peak tent, 50 white folding chairs and 8 six ft. banquet tables
*Delivery Additional
Click to See Price & Reserve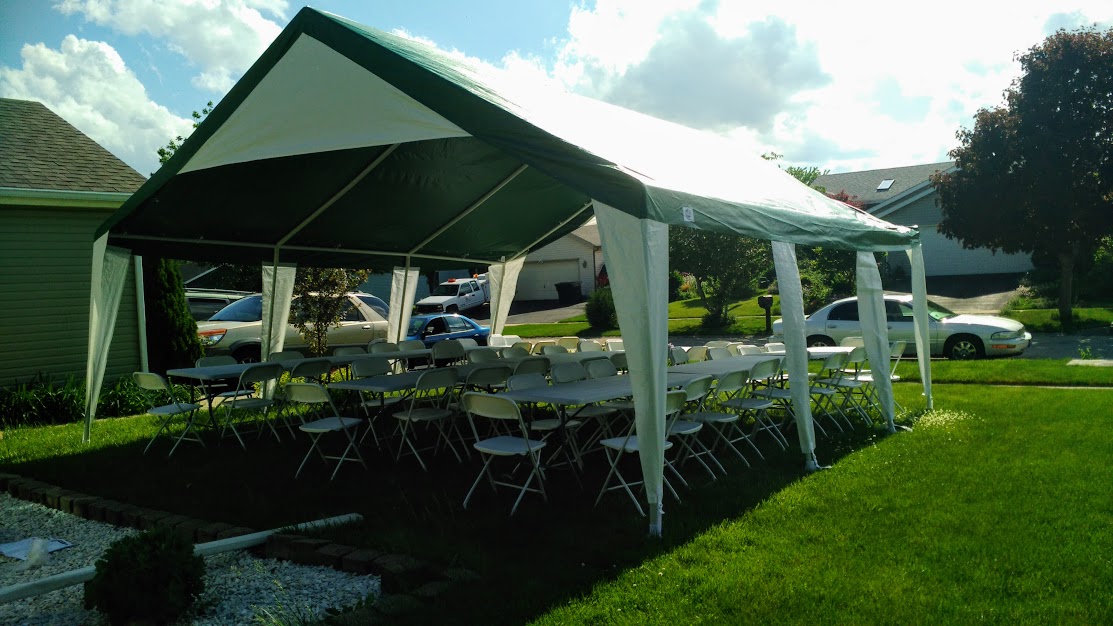 Economy Frame Tent Package For 50 With No Sidewalls
Economy Frame Tent Package For 50 with No Sidewalls
Package includes one 20x20 high peak tent, 50 white folding chairs and 8 six ft. banquet tables
*Delivery Additional
Click to See Price & Reserve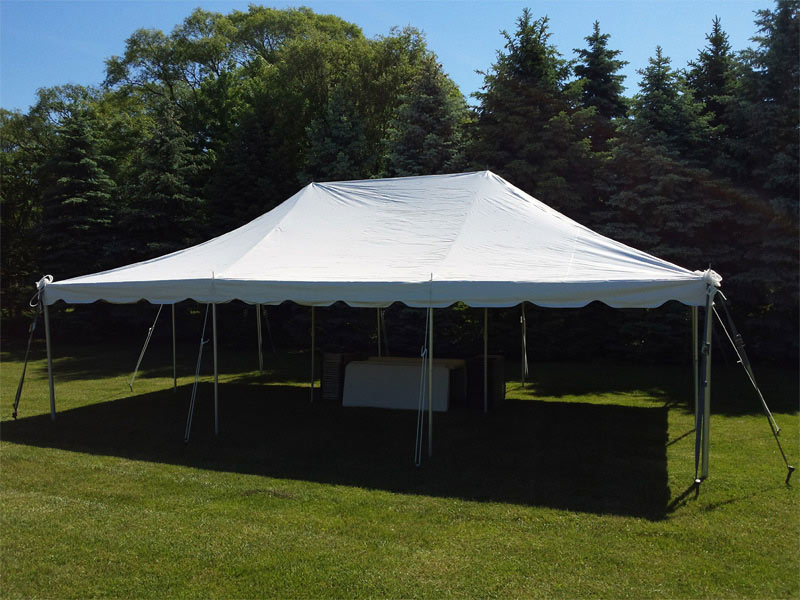 White Pole Tent Package For 75
White Pole Tent Package For 70 with 1-3 Sidewalls
Package Includes One 20x30 Pole Tent With No Sides, 75 White Folding Chairs, and 9 Six ft banquet tables
*Delivery Additional
Click to See Price & Reserve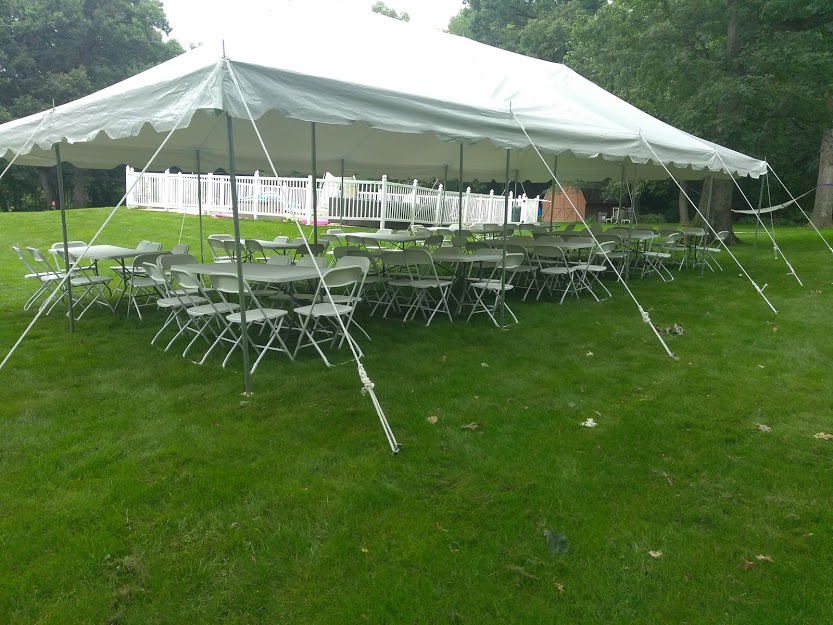 White Pole Tent Package For 100
White Pole Tent Package For 100 with 1-3 Sidewalls
Package Includes One 20x40 Pole Tent With No Sides, 100 White Folding Chairs, and 14 Six ft banquet tables
*Delivery Additional
Click to See Price & Reserve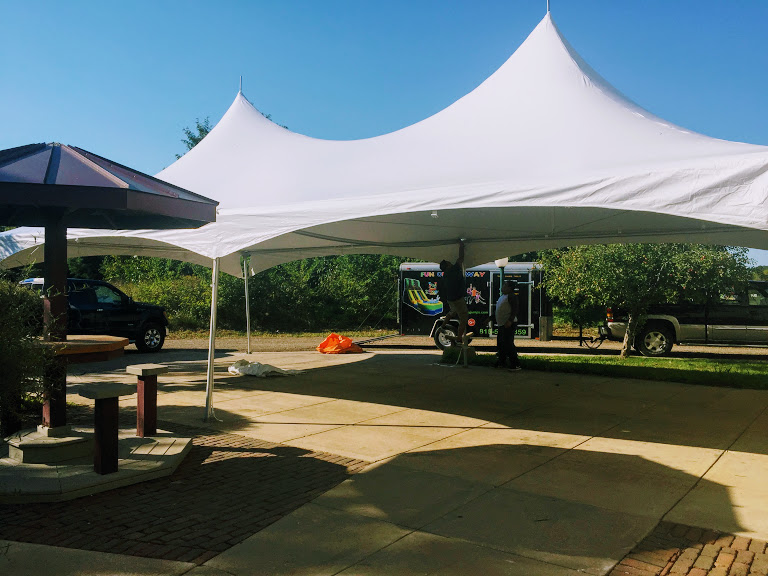 High Peak Tent Package For 100
High Peak Tent Package For 100 with no Sidewalls
Package Includes One 20x40 High Peak Tent With No Sides, 100 White Folding Chairs, and 14 Six ft banquet tables
*Delivery Additional
Click to See Price & Reserve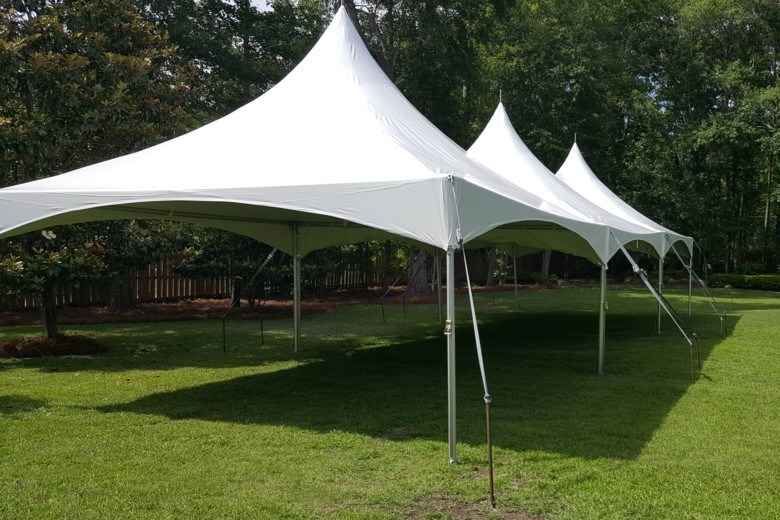 High Peak Tent Package For 150
High Peak Tent Package For 150 With No Sidewalls
Package Includes One Gutter Linked Luxury HP 20x60 Frame Tent With No Sides, 150 White Folding Chairs, and 20 six ft. Banquet tables
*Delivery Additional
Click to See Price & Reserve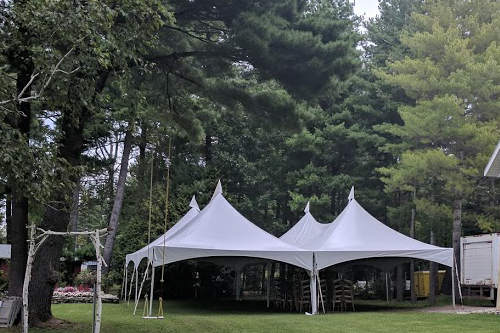 High Peak Tent Package For 200
High Peak Tent Package For 200 With No Sidewalls
Package Includes One Gutter Linked Luxury HP 40x40 Frame Tent With No Sides, 200 White Folding Chairs, and 25 six ft. Banquet tables
*Delivery Additional
Click to See Price & Reserve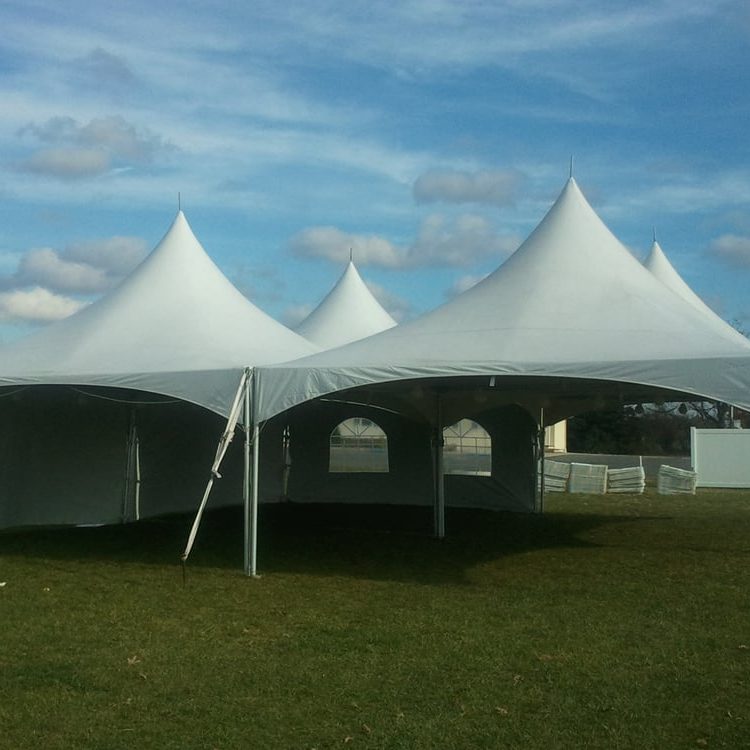 High Peak Tent Package For 200
High Peak Tent Package For 200 With 1-3 Sidewalls
Package Includes One Gutter Linked Luxury HP 40x40 Frame Tent With No Sides, 200 White Folding Chairs, and 25 six ft. Banquet tables
*Delivery Additional
Click to See Price & Reserve
Order-by-Date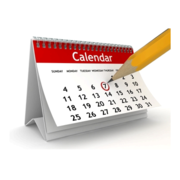 Electric Trackless Trains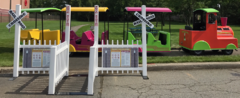 Extreme Games & Attractions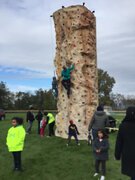 Mechanical Bulls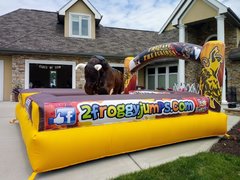 Interactive Games & Mechanical Bull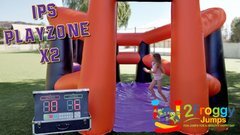 Obstacle Courses & Playland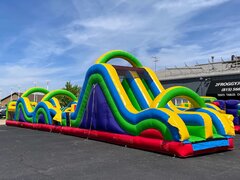 Water Slides and Dunk Tank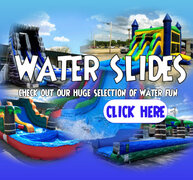 Wet Combo Bouncers (Jump & Water Slide)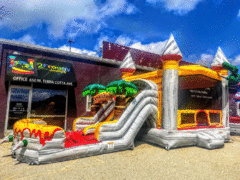 Dry Combo Bouncers (Jump & Dry Slide)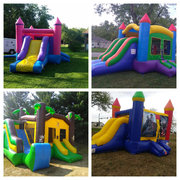 Deluxe Bounce Houses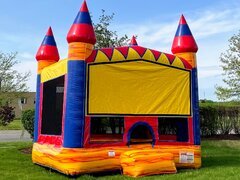 Dunk Tanks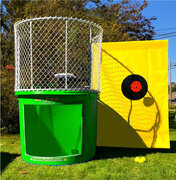 Special Themed Bounce Houses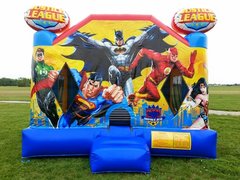 Toddler Bounce Houses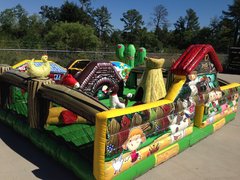 Carnival Games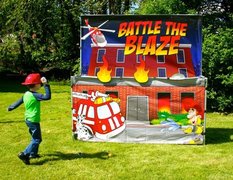 Tents And Accessories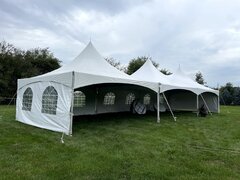 Tables, Chairs and Add-Ons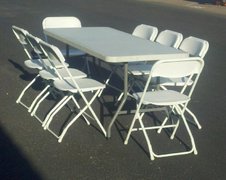 Concessions
Backyard Package Deals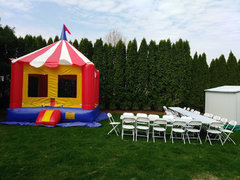 Graduation Package Deals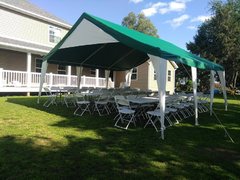 Corporate, Church & School Package Deals