EXCLUSIVE SPECIAL OFFERS FOR SCHOOLS ONLY!
Check out the checklist below to find out more on how you can take advantage of this special pricing
Allow us to setup a table with information at your school event if parents will be attending.
Or if parents will not be attending, mention our company name, include our company logo, and website address on any flyers/handouts given to the students to share with their parents/guardians regarding the event.
Please ensure that when ordering online you mention on the comments section which option above was chosen.
Ensure your order meets the minimum requirements including but not limited to, a minimum of $500 to receive 5% off and be within 20 miles from our Crystal Lake, IL warehouse for free delivery. NOTE: offers cannot be combined but you can take advantage of one offer if you don't qualify for the other.
Orders are accepted online, by email or by calling us during regular business hours.
When checking out online make sure to list the school's name as well as use the coupon code: SCHOOL to receive the special offer.
NOTE: Once your order is received an event specialist will remove the travel/delivery charge and provide the additional discount if applicable. We will also contact you to confirm your order and discuss any questions or concerns.
CHECK OUT OUR TOP PICKS FOR SCHOOL EVENTS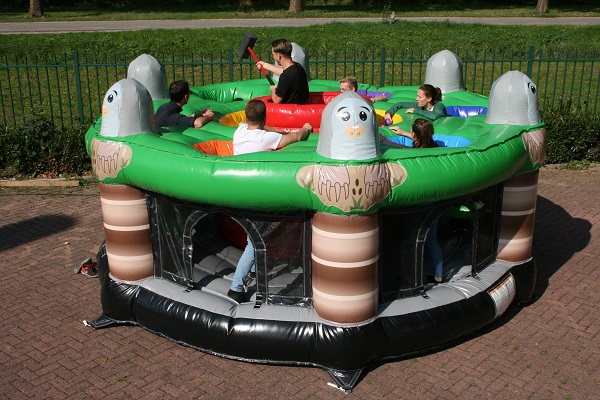 Top Pick #1
Human Whack-A-Mole
Fun competitive and challenging. The human whack-a-mole game is a huge hit at any school event. This game challenges players to collect the most amount of balls without getting whacked on the head with the soft cushioned hammer. Whoever collects the most balls wins! With a 7 player capacity it's a great way to entertain a large crowd for fundraising and other events.
Click For More Details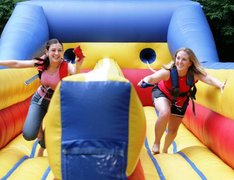 Top Pick #2
Bungee Run Challenge
Another fun and competitive game. The bungee run is a classic event hit. This game will challenge two players to run as fast as they can to reach the furthest they can and stick their team colored velcro chip. Whoever reaching the furthest the fastest wins! This game is great for all school ages including adults and it's great for all school events!
Click For More Details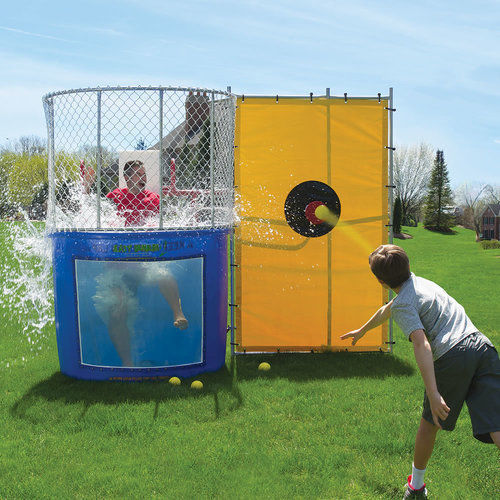 Top Pick #3
Dunk Tank Water Fun!
The dunk tank is a popular game known for driving big crowds and it's a perfect addition to any school event. Some popular ideas include dunking the school principal and dunking teachers and other school staff. Students will line up for the opportunity to hit the target!
Click For More Details
OTHER POPULAR RENTALS FOR SCHOOLS
BROWSE ALL RENTALS BY CATEGORY
Order-by-Date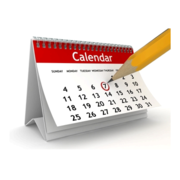 Electric Trackless Trains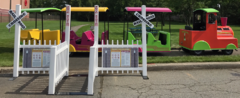 Extreme Games & Attractions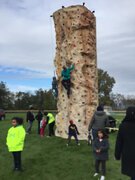 Mechanical Bulls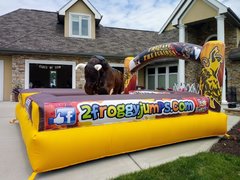 Interactive Games & Mechanical Bull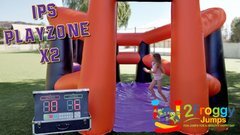 Obstacle Courses & Playland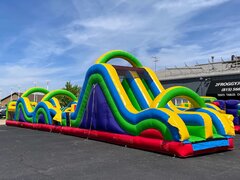 Water Slides and Dunk Tank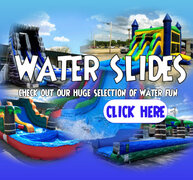 Wet Combo Bouncers (Jump & Water Slide)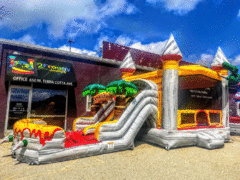 Dry Combo Bouncers (Jump & Dry Slide)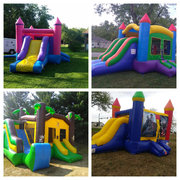 Deluxe Bounce Houses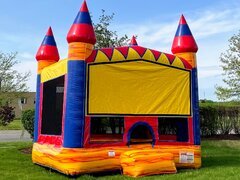 Dunk Tanks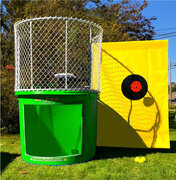 Special Themed Bounce Houses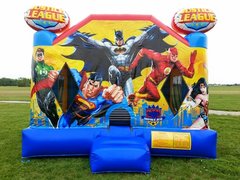 Toddler Bounce Houses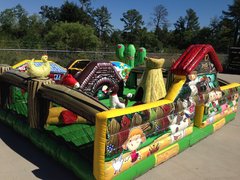 Carnival Games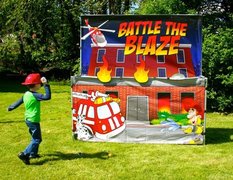 Tents And Accessories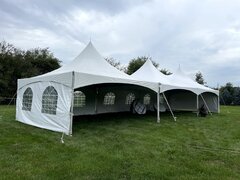 Tables, Chairs and Add-Ons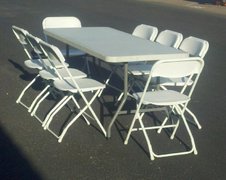 Concessions
Backyard Package Deals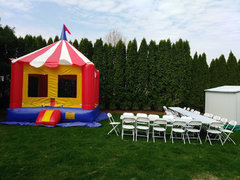 Graduation Package Deals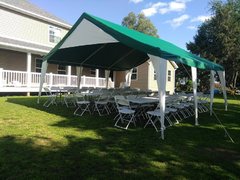 Corporate, Church & School Package Deals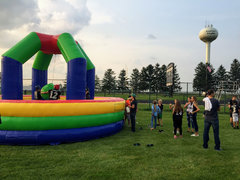 GET GOOD GRADES BECAUSE IT PAYS PROGRAM
As Easy As 123 See How It Works Below
1) Select the top achievers in each grade
The school must notify intention of participation in the program to 2 Froggy Jumps in Belvidere IL by mail, phone call, or in person during regular business hours. After approval the school can designate staff to select the students with the best grades from each school grade. To qualify students must have a report card that reflects only As and Bs. NOTE: To participate student's must have their parent/guardians written permission and each school is limited to one voucher per grade per year.
2) Draw a lucky winner for each grade
School staff will pull all top achievers from each grade and draw a lucky winner for each grade. 2 Froggy Jumps recommends that the school designate a minimum of one staff member per grade to assist in the process. It is also recommended that the school vote on which school semester the drawing will take place as each school has a limit of one voucher per grade per year. 2 Froggy Jumps recommends giving students a heads up about the program at least one week before the semester begins.
3) Winners receive their free rental voucher
Once winners are selected, school staff must submit winner names, addresses, and signed permission to participate form to 2 Froggy Jumps in Belvidere IL by emailing info@2froggyjumps.com or in person during regular business hours. Free rental vouchers will be mailed or can be picked up during regular business hours at the Belvidere IL location. Vouchers will be valid for one full year from the issuing date and can be used towards any regular bounce house rental.