Corporate, Church & School Package Deals

Planning the perfect corporate, church or school events doesn't have to be hard. You can count on 2 Froggy Jumps LLC to deliver prompt service and provide you with a great selection of games including the mechanical bull and inlfatables of all sizes at the most affordable prices in the area. Give us a call or book your event online today and we will make the process smooth and stress free so you can make time for what really matters, FUN!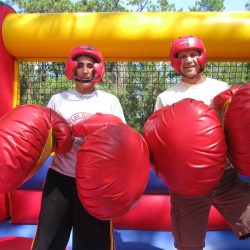 BELOW IS AN EXPLANATION OF THE PRICE RATES WE OFFER:
DAILY RATE = DEFAULT PRICES DISPLAYED.
THE DAILY RATE PRICE IS FOR A 2-7HR RENTAL (WITH AN END TIME OF NO LATER THAN 7PM)
YOU CAN ALSO KEEP IT OVERNIGHT FOR ONLY 10% MORE & EACH ADDITIONAL DAY IS REDUCED BY 50%
PLEASE CHOOSE THE DAILY RATE IF YOU DO NOT NEED IT A FULL WEEKEND FROM FRI TO MON
CHOOSE THE ALL WEEKEND RATE ONLY IF WANT IT ALL WEEKEND FROM FRI TO MON
ALL WEEKEND RATE = BEST VALUE WHEN YOU NEED AN ALL WEEKEND RENTAL
GET IT FROM FRIDAY TO MONDAY & ONLY PAY THE BASE RATE PLUS 60%
NOTE: DELIVERIES ARE DONE THROUGHOUT THE DAY ON FRIDAY & PICKUPS ARE THROUGHOUT THE DAY ON MONDAY WITH A GUARANTEE THAT YOUR ORDER WILL BE DELIVERED BEFORE 6PM ON FRIDAY & PICKUP WILL BE NO EARLIER THAN 9AM ON MONDAY
>>>THIS DEAL IS ONLY OFFERED TO RENTALS WITHOUT TIME RESTRICTIONS & COMPANY WILL DESIGNATE DELIVERY/PICKUP TIMES BY ROUTE EFFICIENCY<<<
MECHANICAL GAMES HAVE THEIR PRICE BY HOURLY RATE NOTED ON EACH ITEM MORE INFO SECTION
*SOME HOLIDAYS MAY INQUIRE A HOLIDAY SURCHARGE
UPON SELECTING TIMES, ALL PRICES AUTOMATICALLY ADJUST